The U.S. Marshals Museum facility is scheduled to open in the Fall of 2019. Exhibits will follow. Don't miss out on the excitement as that date rapidly draws nears. There will be lots of celebrations, educational events, and seminars. Stay up-to-date by registering for our newsletters. You can also keep up with upcoming events on social media.

Marshals Museum Community Meetings
This is an opportunity for members of the Fort Smith community to learn more about the proposed one-cent sales tax to benefit the Marshals Museum. The special election is set for March 12. You'll be able to hear from Marshals Museum leadership and ask questions at these meetings.
Wednesday, Feb. 13, 5:30 to 6:30 PM at Fort Smith Senior Activity Center
Wednesday, Feb. 27, 5:30 to 6:30 PM at Elm Grove Community Center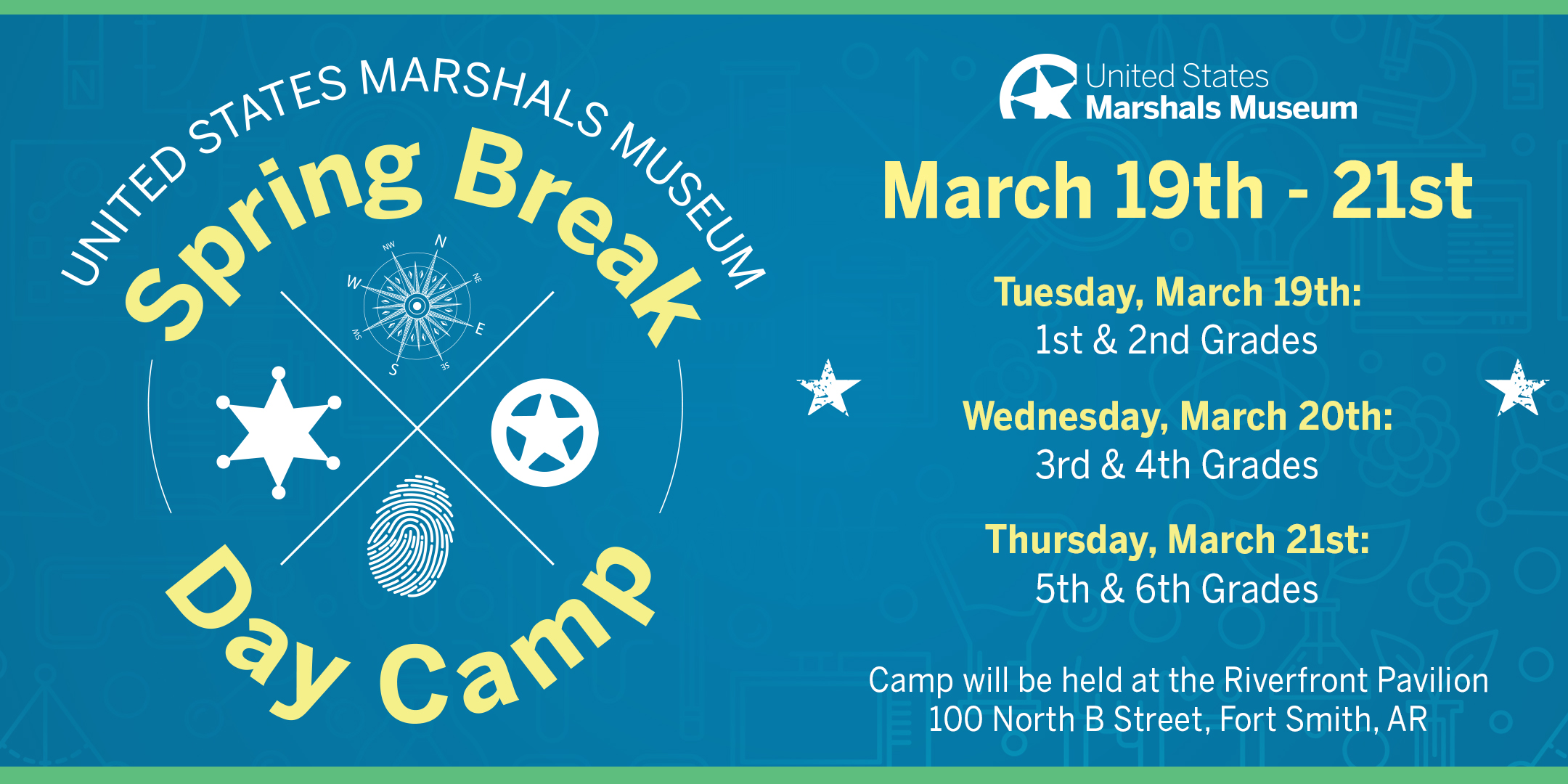 Spring Break Day Camps
Help your child's natural curiosity soar this Spring Break by signing them up to be a detective for the United States Marshals Museum. Working in teams, children in 1st through 6th grade, will investigate who has been stealing artifacts from the Museum's collection using STEM-related activities. They'll start by identifying the evidence left behind at the crime scene and then analyze it to see if they can figure out who the perpetrator is.
Their roles will then reverse and they'll become the suspect trying to break into a locked box alongside their team of campers. They must think and communicate together as to how to crack into their box of loot, helping them build relationships and fine-tune their problem solving skills. There will be multiple tasks that need to be completed in order to accomplish their goal including mathematics, puzzle solving, reasoning, and cooperation.
This year, a grant from the William Thomas and May Pitman Hennessy Foundation is helping to reduce the cost for the Spring Break Day Camps. Tickets are $30 for one child to attend one 9:00a-3:00p camp. A limited number of scholarships are available on a first come, first served basis.
Spring Break Day Camps will host a different age range each day as follows:
Tuesday, March 19: Grades 1 and 2
Wednesday, March 20: Grades 3 and 4
Thursday, March 21: Grades 5 and 6
Each day camp is limited to 30 students. A notebook, lunch and snacks will be provided. Pre- and post-care will be available by request. Costs are $10 for pre-care (8:00 – 9:00 a.m.) and/or $10 for post-care (3:00-4:00 p.m.). Pre- and post-care is available for campers only.
To register your child, please visit our Eventbrite page at https://www.eventbrite.com/e/spring-break-day-camps-tickets-55577943124. 
For more information, or for help registering your child, please contact Meredith Baldwin at (479) 709-3766.
This spring, the United States Marshals Museum will host its sixth annual spring lecture series Power & Politics: Know Your Arkansas State Government. The three-part series, which begins on March 4, will highlight the power given by the Tenth Amendment to the U.S. Constitution: all powers not granted to the federal government are reserved for the states and the people.
Arkansas' state government is modeled after the federal government and consists of three branches of power: executive, legislative, and judicial. During this series, attendees will hear from speakers who currently and have previously held roles in each of the three branches.
All lectures will be held from 6:30-8:00p at the Blue Lion, 101 North 2nd Street, in Fort Smith. The first lecture in the series, presented on March 4, will be about the judicial branch and it's five court systems: Arkansas Supreme Court, Arkansas Court of Appeals, Circuit Courts, District Courts, and City Courts as established by the Arkansas Constitution in 1836. The series will continue April 1 with a presentation on the legislative branch, which operates on a bicameral system composed of the Arkansas Senate and House of Representatives. The third and final lecture will be on May 6, focusing on the executive branch which is currently headed by Governor Asa Hutchinson.
Heavy hors d'oevres will be served and a cash bar will be available for those attending. Tickets can be purchased online or at the door for $20 for the entire series or $10 per lecture. To register for the event(s), please visit our Eventbrite page. You can find links to the page on both the Marshals Museum website as well as on our social media platforms.
For more information, or for help purchasing tickets, please contact Meredith Baldwin at (479) 709-3766.